Welcome to "Phenomenal Feats", brought to you by the official Speedrun Hall of Fame! These moments will be forever remembered in a special gallery, designed for those moments in time where a specific runner, run, or accomplishment deserves to be forever chronicled. These are the moments in time we want all of speedrunning to remember. This month, November 2022, marks our first nominees, and now, it's time for YOU to pick which of these Phenomenal Feats will be immortalized in the Speedruns Hall of Fame!
Moment number 1: The 1990 Nintendo World Championships.
Advertisement
These ads help to cover the costs of running SRHoF. Thank you!
The year was 1990. Ninja Turtles and The Fresh Prince were the hottest franchises. We celebrated the launch of the Hubble Space Telescope. It was a time we all feel was a simpler one, before the internet. A time we are nostalgic for these days, in more ways than one. We wanted the Batmobile toy, the G.I. Joe figures. We watched Saturday Morning Cartoons and went outside to pretend we were Transformers and Care Bears… all before we came inside, and rushed through our homework so we could get a few minutes to try and take down Ganon, or get closer to the end of Mario 2, or try once more to beat Contra. And that year, 1990, marked the first time in years a game developer would host a contest to allow the most skilled gamers in the United States to compete for prizes.
Nintendo was on top of the world in 1990, with Super Mario Bros. 3 taking the gaming community by storm. Not to mention, the Game Boy was quickly turning heads with Tetris as its' pack-in game. Nintendo was so popular that, in 1989, a film starring Fred Savage was produced with Nintendo's blessing, and The Wizard would take theaters by storm… ok, maybe not quite by storm, but it DID create a frenzy for the game they showcased in that film, "Super Mario Bros. 3". Nintendo could do no wrong in 1990, and this caused many gamers to look up when Nintendo was so inspired by The Wizard's in-universe video game competition, that they decided to put their own on! Nintendo picked 29 lucky cities across America, where kids and adults alike could compete in three age groups, where prizes were given away to the winners. These prizes included a brand-new 1990 Geo Prism, a $10,000 savings bond, copies of the legendary Nintendo World Championships NES cartridge, and more! This event was widely advertised on children's networks as well as video game magazines, such as the extremely popular Nintendo Power. Therefore, hundreds of contestants were able to travel and compete for the finals, which were held in Hollywood, CA.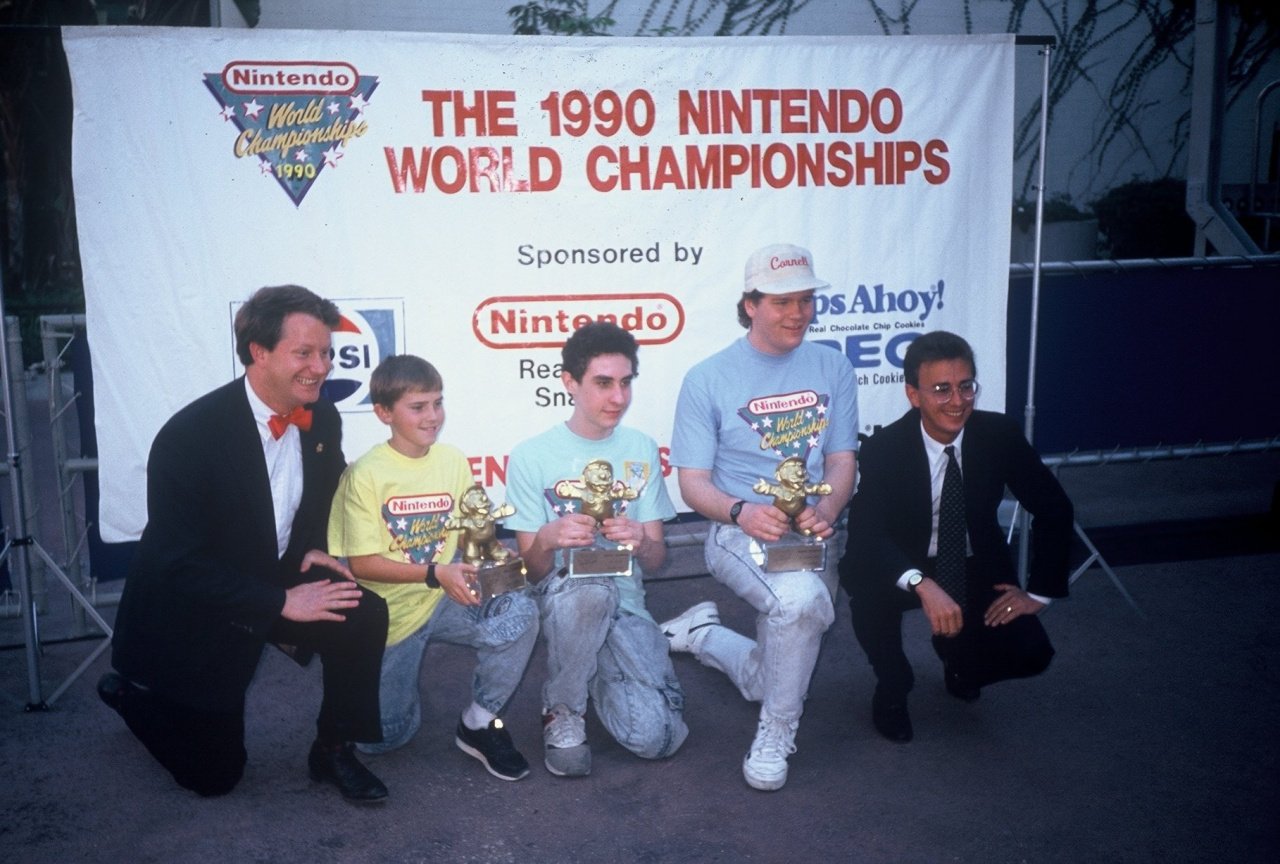 The winners were finally determined after many rounds of competition. Players were required to play three games to a pre-set goal: Super Mario Bros., where players needed to gather 50 coins, Rad Racer, where you had to complete the first track, and finally NES Tetris, where players could then stack lines and lines to rack up the score. Winners were determined by that final score; Jeff Hansen won in the 11 and under category, Thor Aackerlund won in the 12–17 year old group, and Robert Whiteman won in the 18 and older adult competition, marking the three champions from each age group. The legend of this competition lives on in modern iterations of the NWC, as well as the cart created for the event itself, which routinely goes for many thousands of dollars on auction sites like eBay.

Advertisement
These ads help to cover the costs of running SRHoF. Thank you!
The 1990 Nintendo World Championships would transform video game and gaming competition in many people's eyes. This was just one step towards the e-sports and speedrunning scenes we have today, which might not have been possible without Nintendo and Universal Studios making it happen. As cheesy as the film "The Wizard" was, or how before-its-time the NWC was, the impact that this event has had on the eSports and speedrunning scenes cannot be denied.

Will this moment be forever enshrined into the hall of fame? Go to our Phenomenal Feats menu (under the Hall of Fame tab at the top of our page) and click "Vote Now!" Results will be announced at the start of December; join our Discord or follow our Twitter to get all the updates!

-JSR
Advertisement
These ads help to cover the costs of running SRHoF. Thank you!