Welcome to "Phenomenal Feats", brought to you by the official Speedrun Hall of Fame! These moments will be forever remembered in a special gallery, designed for those moments in time where a specific runner, run, or accomplishment deserves to be forever chronicled. These are the moments in time we want all of speedrunning to remember. This month, November 2022, marks our first nominees, and now, it's time for YOU to pick which of these Phenomenal Feats will be immortalized in the Speedruns Hall of Fame!
Moment number 2: The very first GDQ, Classic Games Done Quick, in 2010
Speedrunning has taken on a life of its' own. Multiple times throughout the year, many organizations stream live marathons, the majority of which raise money for charities and groups of underprivileged folks. In 2022, it seems like there are constant charity events, including the Hall of Fame's own "Skip the Stigma" from November 4th to the 6th. Countless millions have been raised by speedrunning events for dozens of charities across the globe. It might, however, be argued that none of them would even exist, much less be successful, without the groundwork laid down over the past 12 years by the folks over at Games Done Quick.
Advertisement
These ads help to cover the costs of running SRHoF. Thank you!
Ever since the first GDQ, Classic Games Done Quick, was held in 2010, every January and June speedrunners gather to showcase their finest runs, all in the hopes of raising some money for a good cause. They fly in from across the globe and perform live in front of thousands and thousands of people, all in a no-reset run that is the pinnacle of pressure for a speedrunner. Since 2010, when the first event was held, the GDQ series of fundraisers has grown to extreme heights, with each mainline event raising literal millions of dollars for a variety of charities and non-profit organizations, in front of an audience of hundreds of thousands! It has also inspired countless other marathons, organizations, and charity-driven people who live to make a difference in the world.
The event was supposed to take place at MAGfest (the Mid-Atlantic Gaming Festival, held annually in the Washington, D.C. area) January 1st through the 4th, 2010. "Very long story short," Marc "Emptyeye" Dziezynski told the Speedrun Hall of Fame in October 2022, "the internet of the hotel that MAGfest had taken place at that year was not up to snuff. This was before MAGfest really exploded in growth. It was really the first year that MAGfest had that kind of exponential growth, and was held in…the Hotel Alexandria (near) the DC area."

"We were supposed to have Classic Games Done Quick, the first [Games Done Quick] at MAGFest back in 2010, but they couldn't provide internet with a decent upload," Mike Uyama, the founder of Games Done Quick, told EGM in 2019. "We had to use the option with decent internet — my mother's house that was roughly a 10-minute drive away from the venue." Fortunately, Mr. Uyama's parents were not only understanding of the situation, but were very supportive. "Mom, can we have the house for three days?" Mike Uyama told the Washington Post in January 2022. His parents moved to a bed-and-breakfast for a few days, and Mike was able to run the event.

The MAGfest event, which began in 2002, was still one of the bigger retro gaming expos in the United States at the time, and Speed Demos Archive, the group that helped to organize the event, worked with them and TheSpeedGamers (known today as TSG TV) to not only give advice and support, but also to lend legitimacy to CGDQ and SDA, which was in short supply in 2010. Speedrunning as a whole was in its' infacy in the mainstream, and Twitch didn't exist yet (in 2010, it was still part of justin.tv, the predecessor to Twitch).
Advertisement
These ads help to cover the costs of running SRHoF. Thank you!
"The TSG members actually came by and helped us out," Emptyeye told us, "and frankly, gave GDQ some much needed legitimacy… as weird as that sounds now, with as big an operation as it is (today). (I remember) everybody thinking that the $5,000 we'd wanted to raise for the charity (C.A.R.E.)… that's right, not "million", but thousands… was ridiculously optimistic, and it turned out we raised roughly double that. We raised roughly $10,000, which to us seemed so absurdly high (and crazy) which, obviously, with the way it's grown now, they routinely raise millions of dollars in one shot. That seems kind of silly now, but we could not have predicted Twitch and the explosion of live streaming popularity, and the explosion, really, of speedrunning at that time"

"Every year, we wonder if this is it, did we finally top out," Uyama told the Washington Post in 2022. "And then it goes even higher."
Starting with the very first run, a Mega Man speedrun performed by the legendary Andrew Gardikis, Classic Games Done Quick kicked off a legacy that is unmatched in speedrunning, and likely never will be rivaled. The schedule was filled to the brim with legendary speedrunners both past and present, such as AndrewG, Feasel, Emptyeye, romscout, Trihex, and so many others, including Mike Uyama himself. For three days, the impressive list of speedrunners showcased all sorts of classic games, from the original NES all the way to the PlayStation and even the Game Boy Advance. However, this inaugural event was mostly focused on the classic Nintendo console, with the vast majority of runs graced from that 1980's console.
"I did the Teenage Mutant Acid Turtles run, as it's now known… which, if there's a run from Classic Games Done Quick that people remember, it is probably that one." Emptyeye reminisced with us. "Teenage Mutant Ninja Turtles started visually glitching out, and this was after it had already crashed twice earlier in the marathon, so it got cut. (Later) it got added back in, and then it started to visually freak out. And, I do remember Mike Uyama trying to sort of cut it on the spot, and me overruling him, because I sort of wanted to see how far I could go before, effectively, the game crashed… which is what I was expecting to happen. And, as it turned out, as I kept playing, I realized okay, everything is visually all messed up, but everything positionally seems to be where it should be." Emptyeye was able to complete his CGDQ 2010 run of TMNT on NES despite these glitches. "Even though I don't think I actually ever verbally said it, until the run was over, or until I thought I could sort of breathe… or I thought I had it at Shredder. Thankfully, I didn't flub that."
Advertisement
These ads help to cover the costs of running SRHoF. Thank you!
The event was a success in every way they possibly could have expected, despite the issues with the internet and the relatively guerrilla style the event was captured (which, in 2010, was a much bigger deal than you might have realized, with capture cards and upscalers a much more niché product then, than they are today). The organization they focused on raising funds for was a Swiss charity: CARE International, which was a great foundation… but in 2010, they didn't take PayPal, and the fundraising scene then was much less user-friendly than it is today. So they moved on to focus on other organizations. Since 2010, GDQ has raised over $41 million dollars (USD) for various charities… and it all started in Mike's parents' basement. Absolutely unreal.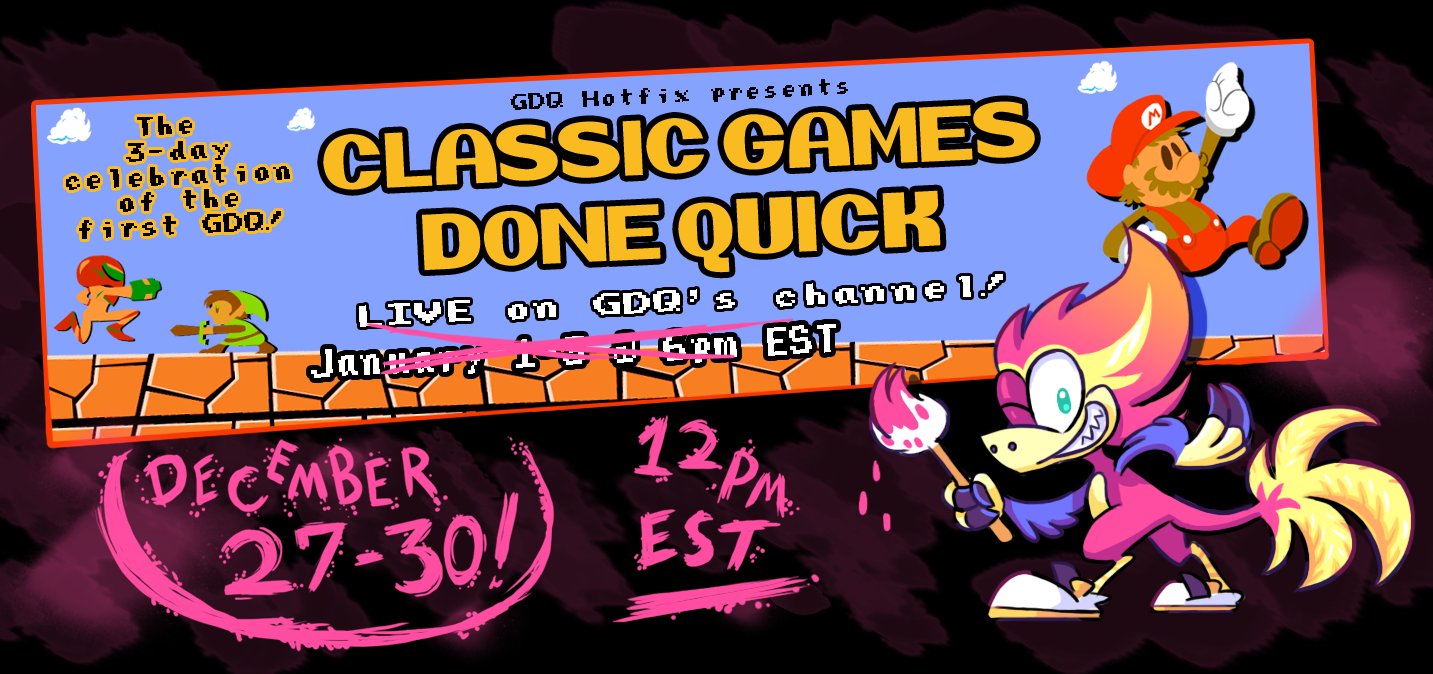 Though the first CGDQ focused on almost exclusively NES titles, a handful of other consoles were sprinkled throughout the event, laying the groundwork for today's GDQ events, which host games from the Atari all the way to the modern generation. With the best speedrunners, representing dozens of countries and thousands of different games and consoles, GDQ has grown tremendously, and continues to be a positive force in the community to this day.

Will this moment be forever enshrined into the hall of fame? Go to our Phenomenal Feats menu (under the Hall of Fame tab at the top of our page) and click "Vote Now!" Results will be announced at the start of December; join our Discord or follow our Twitter to get all the updates!